Whether you are looking to purchase a new hydraulic press for a job site or are looking for a replacement for an older press, there are several things you should know. Read on to learn about the different types of hydraulic presses, the different types of hydraulic press drive systems, and applications for a hydraulic press.
What are the Types of Hydraulic Press Used?
Using hydraulic fluid in your manufacturing process is not expensive and does not have a negative effect on the environment.
Hydraulic fluids also require a reservoir and an effective way to route the liquid to its destination. This is where the magic of a good press comes into play. The water based systems are traditionally used in hot metal areas of steel mills.
There are several types of hydraulic systems to choose from, including the standard and the water based ones. The water based systems are typically used for hot metal processing and longwall mining applications. In the grand scheme of things, the water based systems are less expensive than the oil based versions. Using oil based fluid means a trip to the tank to reroute the liquid.

Cylinders in a Hydraulic Press
Designed to sculpt and compress metal and other materials, a hydraulic press can shape components, crush waste, and even bend and stamp a workpiece. It is often used to manufacture components for automobiles, and is also found in industrial manufacturing applications.
A hydraulic press produces mechanical force through pressure generated by liquid pressure. These presses are typically used to shape and compress materials, and can apply a force as high as 150 pounds.
Depending on the type of press, the cylinders in a hydraulic press can vary in size and configuration. They can also be modified to fit specific manufacturing applications.
The two cylinders in a hydraulic press are connected by pipes containing hydraulic fluid. The larger cylinder provides a greater force. The smaller cylinder is a plunger. The ram lowers the upper half of the die to compress the workpiece.
What are The Advantages of Hydraulic Press Drive Systems?
Various types of hydraulic press drive systems are available. The main advantage of using this device is that it can increase or decrease pressure automatically depending on the amount of work force required. It can also help in reducing electric energy consumption. It is also useful in large hydraulic presses.
Hydraulic press is used to perform a wide range of tasks. Some of the applications include bending, straightening, forging, and processing plastics, metal, rubber, wood, and powder metallurgy. It can also be used for general pressing processes, such as sheet metal parts stamping, drawing, and forming. It is also used in various academic settings for instruction.
The main components of a hydraulic press are a hollow cylinder, anvil, piston, ram, and power unit. The press is driven by a pump that transfers hydraulic oil from the reservoir to the upper or lower chamber of the cylinder. Hydraulic press cylinders have two ports that allow the transfer of the hydraulic oil to the upper or lower chamber of the ram.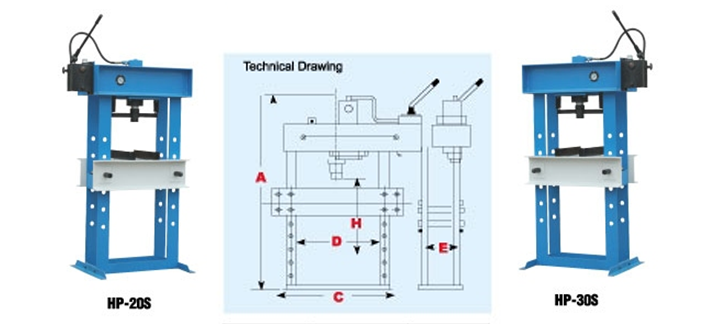 What are the Applications for a Hydraulic Press?
Several industries and manufacturing processes use hydraulic presses. These presses provide an excellent method of applying pressure to a wide range of parts. In particular, they are ideal for manufacturing large, complex parts.
Hydraulic presses can be used to fabricate truck beds, automobile parts, and even roofing for houses. These presses are ideal for many heavy-duty jobs and can be used to form, bend, and straighten parts. They are also used for plastic bending, metal working, and forging.
For instance, a hydraulic press can be operated by hand to provide more consistent force. However, a more advanced press can be controlled by PLC or PC control systems.
Hydraulic presses have a wide variety of applications, but they are best suited for large force and pressure. They can be used to forge metal, form plastic products, and compress specialty waste products.
The Bottom Line
The hydraulic press is an essential part of industrial operations. It produces high quality components and assemblies, and is often used to shape and compress metals. It is also used in the production of complex electronic components. Hydraulic presses can be custom built to meet the specific needs of any industry. They are versatile and cost effective. They can be controlled in various ways.