There is no doubt that the modern machine tool is far more complex in operation, powerful and they process parts at speeds never imagined before. With this increased complexity, the risk of occupational hazards is very high and measures must be taken to reduce the risk of casualties and fatalities.
Machine tools manufacturers undertake to ensure absolute safety of the operator during machining process. This is done through inclusion of several safety features in the equipment that help reduce these hazards.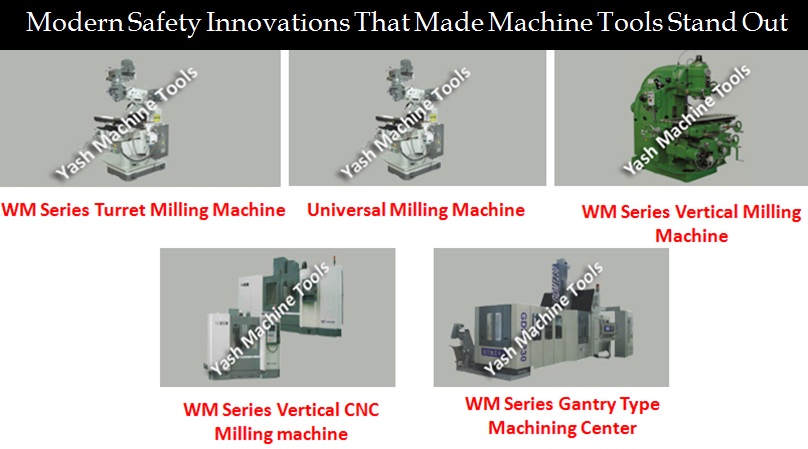 Some important safety features that have made the tool room equipments stand out include;
Machine Guarding
These are barriers blocking access to dangerous parts of a machine such as rotating parts, moving parts, electrically charged parts and even hot areas of the equipment. They provide protection against;
Contact with parts which are in motion
Protection against mechanical failure
Hazards due to electrical failure
Access to equipment due to human error
Other Safe Guarding Features
With increased emphasis on the safety of machining equipment, technology has been developed where the safe guard aperture is fitted with micro switch that prevents the machine from operation when the guard has been turned or removed. Manufactures have also included protection against flying metallic chips, which are potentially dangerous.
Laser Protection Devices
This is an innovative safety device fitted onto the machine. It is also called a presence sensing devise. There is a continuous sensor directed at the die or the machine tool. When there is movement towards the die, it retracts immediately thus preventing occurrence of a hazard. This protection system may also be useful when simple corrections need to be made during machine operations.
CNC Milling Machines
This is a relatively recent innovation in CNC milling machines where by the milling is completely self-driven by the equipment through complex programs running the equipment. This development meant lesser human interaction with the milling tool and adding the level of safety of the machine.
Sensory Devices
These are devices installed in machine tools that monitor the normal running of the machine. They are pre-set to give warning signal whenever machine failure occurs which can lead to dangerous hazards. Certain types of CNC machine models are equipped with heat sensors that give off alarm when overheating occurs' which could be an indicator of malfunctioning cooling system.
Emergency Stop Systems
This is a system designed for use in emergency conditions to prevent or avert harm from happening to operator or machine damage. The e – stop is usually an optional safety mechanism in an equipment and manufactures have the option to install them based on a risk assessment. When the e-stop does not significantly reduce the effect of hazard then it may never be the best solution.
The emergency stop mechanism is especially important in manual lathe machines where serious hazards may occur especially when the work piece becomes unstable during operation.
The machinery from Yash machine tools has been designed with the necessary safe guards and fail-safe protection systems for efficient and hazard free operation.