Using a Vertical Milling Machine can be beneficial to a company that needs to produce parts for a variety of industries. This type of equipment can be used to produce various parts from wood, plastics, ceramics, and metal. It can also be used to create products for the medical field.
What are Milling Machines Used for?
Having a milling machine makes it possible to produce a wide range of products. Milling machines are used for many different applications, such as cutting, drilling, engraving, and threading. They can also create a variety of shapes, including flat, curved, and irregular.
Milling machines can be used to produce a variety of products, from small objects to huge industrial machines. They are used for many different purposes, but the basic function is the same: they apply a rotating cutting head to raw material, resulting in a smooth or curved surface.
In order to make a smooth cut, a milling machine must spin the cutter at high speed. In addition, the cutting tool should be small enough to pass over the surface without dislocating the workpiece.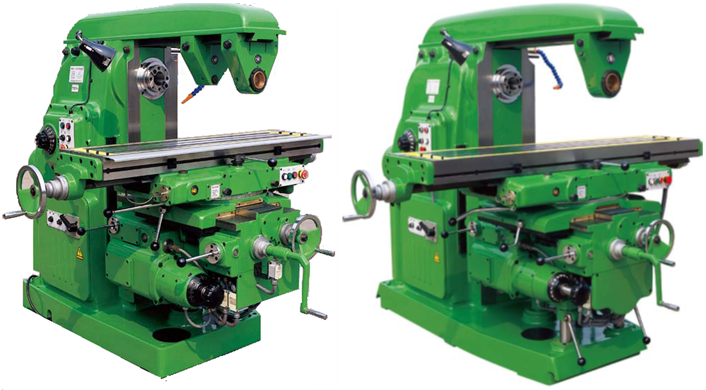 Why Buy Horizontal Milling Machines?
Whether you are in the market for a new milling machine or upgrading an old one, you may be wondering which is the best for your needs. Before deciding, it's important to understand the differences between horizontal and vertical milling machines. This can help to ensure that you get the most out of your machine and minimize any costly mistakes.
Horizontal milling machines are a good option for larger projects. These machines are more versatile, making it possible to perform multi-sided machining. They are also better suited for heavier or bulky materials. They are also faster, meaning that they are ideal for high-volume production.
While horizontal milling machines can be expensive to purchase, they are also very durable and efficient. These machines can be found in a variety of industries. They are also easier to use, which means less training and downtime.
Horizontal milling machines are better suited for heavy workpieces. They also have shorter tools, and can handle multiple angles. This makes them the best choice for large-scale jobs. They are also more stable.
What is the Cost of Milling Machines?
Purchasing a vertical milling machine can be expensive. The cost is usually a combination of the purchase price, parts, installation and training time, as well as any accessories. The cost can also be increased by the amount of programming and functions you desire.
The cost of vertical milling machines can vary widely depending on the type of machine you purchase. Standard vertical mills don't have programmable logic controls. They can operate at speeds from 500 to 50,000 RPM.
Some vertical milling machines are also available with software packages, allowing you to customize the machine to suit your specific needs. A vertical milling machine is often used in advanced manufacturing industries.
The cost of a vertical milling machine will vary depending on the size of the machine, the number of functions it has, and the frequency with which it is used. Vertical milling machines are often used for manufacturing products that require low thermal effects.

Choosing Vertical Milling Machine
Whether you are starting a new job or just looking to upgrade your current equipment, you may be wondering which type of vertical milling machine is right for your needs. The decision is based on several factors.
The first thing to understand about vertical milling is that the process is much less complex than horizontal milling. Vertical milling machines use a single axis, while horizontal machines use three or more. Vertical machines are also less costly. This makes them an attractive option for many small and medium businesses.
Vertical machines are more versatile and affordable, but they also have a few drawbacks. Vertical cutting tools are not able to create deep cuts, and the chip thickness decreases, reducing tool life and rubbing.
In Conclusion
Buying al milling machine is a big decision for most small and mid-sized businesses. The best way to do this is to get a good quality machine. If you're planning to purchase a milling machine for your business, you need to know what to look for. Having a little bit of knowledge goes a long way, especially if you're new to the business. Aside from the obvious choices, it's important to consider your budget and the type of business you run.