CNC lathe machine has replaced all the old versions of lathe. Its advanced has influenced all the manufacturing or production industries. It has not only lessened the stress but also increased productivity without compromise of quality. It also saves time and labor work. Lathe machine was developed by John T. Parsons at the end of the 1940s. Computer Numerical Control lathe machines are designed in a way that it can create intricate cuts on materials like plastic, metal and wood etc.
CNC lathe machines are very versatile and consist of an extremely fast spinning spindle.
CNC Lathe machine has flourished its use in manufacturing industries for the production of different parts.
This advanced technology has become part of industries which involves work on parts reclamation, glass working, metal spinning, woodturning, thermal spraying etc.
What is CNC lathe Machine?
Basically, a lathe is a device, used to remove the excess material. It rotates a work piece on a spindle or uses cutting tools and drill bits of different diameters on the work piece to remove the extra material and produce a symmetrical object.
CNC lathe machines can create a variety of cuts, shapes and minute details required on a rotating work part. Computer Numerical Control lathe machine is programmed to produce intricate cuts on hard materials and create quality products in less consumption of time with high rate.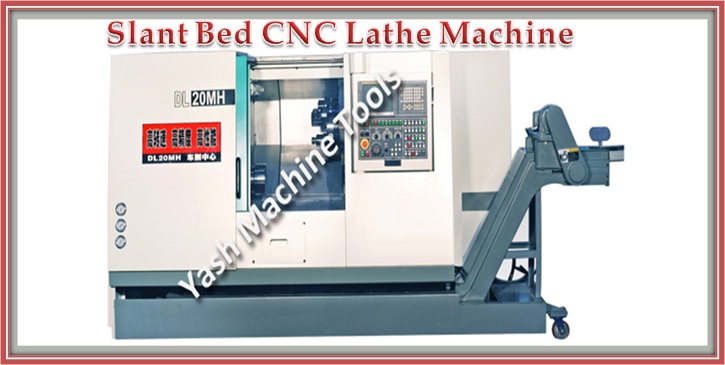 CNC lathe machines are available in two types.
1) CNC Horizontal Lathe
2) CNC Vertical Lathe
For production turning machine, a lathe machine is designed with a bed which is usually flat. Lathe machine are available in different sizes; one can purchase it as per the production need.
Small lathe machines are perfect for the manufacturing industries which require less production while large size CNC lathe machines are good for production industries where large production is required.
Uses of CNC Lathe Machines in Manufacturing Industries
Spending money on a machine becomes worthy when it provides the desired output within a limited time. CNC lathe machine ensures the production of a finely finished product or can provide an intricate part. The kind of delicacy and a good finish provided by the CNC Lathe machine to the product increased its demand in industries like electronics, aerospace, firearm manufacturing, automotive and sporting etc. The lathe machine is used to produce plane surfaces & screw threads. It is even used to produce three-dimensional products that are complex to make. For any work, the work piece is held tightly by one or two centers in which one moves horizontally. Sometimes, the work piece is placed tightly with collets or clamps.
List of Some Products produced by using CNC lathe machines:
1) Bowls
2) Baseballs bats
3) Camshafts
4) Cue sticks
5) Crankshafts
6) Gun Barrels
7) Musical Instruments
8) Dining Room Table
9) Chair legs

Well, if you are in the manufacturing industry and planning to get this highly productive machine then employee a well-experienced professional who can operate this machine. The automatic system has made the task easy but still complexity of machine requires a professional to run it. The machine consists of complex commands and speed rate which is instructed by the internal computer. Only a well-trained operator can set the required command for the production of a variety of products. The introduction of CNC lathe machines in the manufacturing industry has brought a drastic change.
Why CNC Lathe Machines?
Well Finished products:
CNC lathe machine provides the well-finished products. One needs to set the required command to get the kind of product desired.
Reduces time consumption:
The CNC lathe machine, not only produces a fine quality product but it also reduces the time consumption. It increases the production rate.
Application of Lathe Which Makes It Useful To Industries
The applications used in industries are forming, contour turning, machining of cams, ultra-precision machining, and hard turning. The lathe for these purposes is built by lathe manufacturers with high precision and spindle speed and work holding device stiffness. The lathe machine suppliers ensure they are made from structural materials that have characteristics with low thermal expansion and good dimensional stability. Machines are equipped with high control systems and error compensating features. Exporters of lathe machines offer different kinds of lathe machines with reliability and trustability to fulfill all manufacturing needs with minimum maintenance operation. Productivity and feasibility are what appropriately define the CNC lathe machine.