Milling Operation and Types of Equipments
Grinding or grating operation is a kind of machining applied to bring out definite shape to the work piece. There are different types of grinding mill devices designed and supplied to match the various machining requirements in engineering, automobile, and related industries. Turret or vertical, horizontal, CNC, are some of the most preferred milling machines.
What is Unique about Turret?
The turret is among the flexible milling machine is it also referred to as the vertical grinding equipment. It is preferred to grate work piece in three types of axis and the spindle of this machine keeps up cutting with dynamic movement,
 Importance of spindle in Turret
Spindle is a flexible component in turret as it can be set in different angles. While buying vertical mills, the presence of spindle is highly recommended as without spindle It is difficult to perform grinding operation in different axis.

How do Spindle Works?
Turret is also called vertical milling equipment and it is made up of important tools in which spindle remains most important. It is only with the help of spindle speed lever variation different milling operations can be done.
Searching for Turret with Quality Spindle Attachment
The spindle is fixed above the machine mount or table just above the vertical axis. Turret equipments are designed either with manual spindle operation or automatic spindle operation and this part is either moved upwards or downwards matching the grinding direction and requirement.
Functional Aspects of Spindle for Milling
Turret milling machines is the key factor for all sorts of milling requisites. The grinder or drill tool is attached to the spindle so that the operator would be able to obtain grinding operations in X or Y or Z axis. Hence, spindle quality need to remain strong.
Make sure of the Spindle Quality while investing in Vertical Mill
Since the spindle holds the grinding or drilling tool, necessary machining settings can be obtained only by managing spindle direction and spindle speed. A vertical mill depends largely on the type of spindle it is equipped with.
Spindle Speed for Large Productivity
For high speed turret, checking the quality, position and rotation aspects of the spindle is very important, proper spindle rotation must be checked. This will ensure the reliability of the equipment.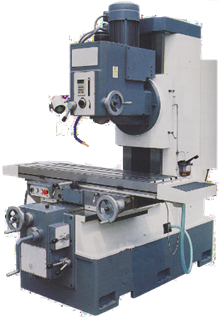 Yash Machine Tools-For Reliable Turrets
Yash Machine Tools is a popular supplier of milling, grinding, cutting and shearing equipments. We offer turret milling equipment, milling cum drilling device and bed type mill equipment and also accept customization requests from consumers concerning machine specifications.
Vertical Drill and Spindle Quality Maintained at Yash Machines
Our grinding equipments are made of high tensile strength material and when it comes to spindle requirement we make sure that every machine offered by us work for long run.
Conclusion
Vertical drilling remains a specific machining requirement in engineering industries. Spindle is one of the key components that need to be checked for quality and capacity before investing in the equipment.