The radial drilling machine is widely accepted for its useful functioning in many applications such as drilling, tapping, lapping, boring, screwing, spot facing, and a few more.
All Geared Radial Drilling Machines have evolved and are now used in commercial, industrial, and domestic uses. It is a great tool for metal processing, manufacturing processes, and is also very useful in construction units. Their operations also spread across the medical uses, space missions, wood, and metal industries. All Geared Radial Drills come in a list of specific designs to meet the precise needs of each industry.

Popular use in workshops:
Radial drills are one of the most versatile tools for workshop uses. They are well-recognized for their perfection, clear-cut, and structured use. It facilitates the error-free work with accuracy for seamless rotation of columns and preventing from an angular deviation of the spindle axis. It is fit in cutting material and fastening multiple pieces at a time.
Industrial application of Radial Drilling tools:
All Geared Radial Drilling tools are one of the most common drilling tools used in different industries. Their applications have simplified the complex production systems into effortless tasks that could be very well done at ease. The tool is adept in the industries related to woodwork, metalwork, and construction-related work. It can very well drill all kinds of materials such as steel, plastic, cast iron, etc. That is because a radial drilling machine is made up of efficient steel parts, geared work head and fins that easily handles the hardest of materials without breaking out. This is why it is a high-performance drilling tool. It offers exceptional drilling features for construction use in workshops.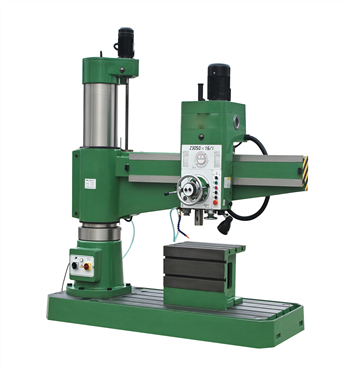 The tool drill holes easily because of its fastened arm to the drill spindle until the very end. This gives rise to a lot of applications it can even perform in a large cross-section area with ease. It is way more efficient than other drilling tools and systems. The radial machines offer a substantial arm length that supports it to hold large-sized workpieces. It offers a list of adjustable features that allows it to carry out multiple drilling tasks with ease.
This is the reason they prefer radial drilling machines over an extensive range of industry works and systems. Most experts work efficiently with it and demand no extra systems to carry out a wide range of tasks.
Conclusion:
The ever increasing demand for these machines has forced the manufacturers to upgrade the existing drilling systems to produce faster results and mass production rates. With time, they are regularly getting updated to coherent models that minimize the labour cost. Radial drilling machines are a high-end tool that sustains corrosion for a longer time period. The tools are long-lasting, easy to handle, and are reliable for their usage, which finds an easy place among the major maintenance works.