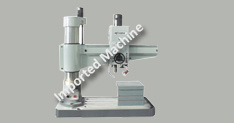 A drilling machine is primarily utilized for drilling holes of different sizes and precise depths on the surface of an object. Moreover, a drilling machine can even perform several other functions such as tapping, reaming, counter sinking, spot facing, counter boring, etc. It is commonly referred as a drill press; and has the capacity to drill very tiny holes and also extremely large holes. The drilling machine is considered as one of the most elementary as well as highly essential machine tools.
Numerous types of drilling machines are now manufactured and readily available in the market; including the radial drilling machine. All the varieties of drilling machines, actually execute the same basic drilling function. However, there are certain specific operations that can be done very accurately and more efficiently by that particular type of drilling machine. They are widely used in several manufacturing processes, and especially in the construction industry.
Nowadays radial drilling machines including all geared radial drill machine are supplied in various types and sizes of the drill head and base plate. They are designed to fulfill the specific requirements of numerous engineering functions and related operations. The coolant system and power feed of the spindle is a common feature of the radial drilling machines.
Radial Drill Machine
A radial drill machine is a special purpose drilling machine. It normally has a drilling head that is mounted to slide along the radial arm. This radial arm can be raised, lowered, or rotated, on a vertical pole in order to adjust the position of the drill above the work piece. Radial drilling operation can be performed on a wide range of materials such as cast iron, steel, plastic, etc. It is widely used in the metal working industry.
The radial drill is fitted with a rotating, cutting tool which is known as the drill bit. It has a large gear head that moves along the arm and radiates from the column of the drilling machine. The radial arm swings and moves the drill head away, in order to place the work piece on the base of the radial drilling machine. This swinging movement also enables to drill holes at various points on the work piece, without actually moving the work piece.
These radial drilling machines are reputed for their precision and effectiveness.
A radial drill ensures smooth rotation of the column and helps to prevents angular movement of spindle axis. It can hold a drill of specific diameter, known as a chuck; that revolves at a particular rpm/revolutions per minute in order perform the drilling operation.
Radial drilling machines are very useful for mechanical machining, that includes various applications and several functions such as drilling, boring, tapping, reaming, lapping, screwing, counter boring, spot facing, and much more. Radial drilling can be easily done for holes of various sizes such as 30 mm, 50 mm, 70 mm, and up to 100 mm. Besides this a vast range of radial drilling machines with relatively larger capacity are also readily available globally.
All Geared Radial Drilling Machine –
All geared radial drilling machine is been used in industries having different applications that include metalworking, construction, woodworking etc.  and also been used in different manufacturing processes. This radial drilling machine consists of a radial arm with huge gear mounted over it. It allows for getting the drilling results on any surfaces.  The machine is generally been utilized in diverse industries like metal & woodworking, construction etc. All geared radial drilling machine consists of radial arms, columns and drilling heads etc.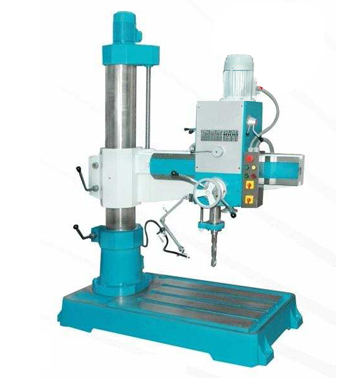 One the advantage of using all geared radial drilling machine is there is no need to reset or move the workpiece from the position once it is been set. As the radial arm can swing out of the table to empower an overhead crane, a large workpiece can also be used to locate on the base. The radial arm can be turned around and the drilling head present can be moved in/out over the radial arm as required. Various applications of this machine include tapping, drilling, boring, columns, radial arms etc.
There are various features of all geared radial drilling machine like –
Speed & Consistency
Good Balancing Property for Large & Small Components
Effective Operations like Tapping, Drilling, Reaming
High Reliable Components
High Durability
Ease of Maintenance
Benefits of Radial Drill Machine
Radial Drill Machines supersede ordinary drilling machines because these machines are designed to drill holes in heavy and strong materials with accuracy and stability. It can counter holes, punch holes, and grinding out large particles which makes it very versatile. Its benefits include a good balancing for large and small components and exhibits high efficiency during tapping, drilling and has tremendous speed and consistency. Radial Drill manufacturers provide an impressive manufacturing line of accurate operation tools and these radial drill machinery aid inefficient levels of rigidity, strength, and user-friendly operation. The drill machine exporters intend to design such machinery for massive and heavy-duty operation and the radial suppliers are known to provide a hassle-free service.