A Lathe machine is one of the most important equipments that one will find in any manufacturing or production unit. It rotates the workpiece about an axis to perform myriad operations such as- Facing, Turning, Knurling, Cutting, Sanding, etc. With the help of proper fittings and attachments, operations like drilling can also be carried out with the lathe machine. Various objects like screws, candlesticks, gun barrels, cue sticks, baseball bats, crankshafts, etc. can be manufactured using this machine.
Types of Lathe Machine:
Although there are many lathe machines available, they are broadly classified into 4 types:
Light Duty Lathe Machine
Medium Duty Lathe Machine
Heavy Duty Lathe Machine
Extra Heavy Duty Lathe Machine
These lathe machines differ from each other in their construction, parts and hence their field of application.
Difference between Lathe Machines:
Light Duty Lathe Machine, as the name suggests, is used for machining the workpiece which is lighter in weight and flexible for machining. The machine has a Light lathe bed and a big spindle bore. It occupies less space as compared to other lathe machines. They are mostly preferred for various turning operations of a wide range of different Industries offering higher machining accuracy and better surface finish.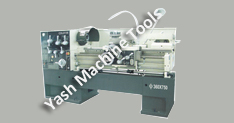 The Medium Duty Lathe Machine has a solid cast iron structure ensuring the rigidity of bed, headstock, and saddle. The gearbox incorporated with the machine is a new type and its high precision spindle structure helps to provide a flawless headstock performance. It has brand new exterior design differing from other lathe machines. The headstock is bigger in size housing mechanisms to provide multiple speeds to the spindle.
Heavy Duty Lathe Machine has a stress relieved bed and precise spindle structure which ensures the machine to give an impeccable performance. The stress relieved bed and induction hardened guideways provide the heavy duty lathe machine, rigidity, and longer life. This machine varies from other lathes as it shows high-speed performance with the help of selective components like high spindle torque, headstock with a mechanical clutch or electromagnetic clutch.
Extra Heavy Duty Lathe Machine is considered as utmost important machinery in heavy metals & engineering industries. These machines possess high speed dynamically balanced spindle using the latest tools building technology. The extra heavy duty lathe machine is different from other lathe machines as it can satisfy various turning requirements of a wide range of different industries ensuring better machining accuracy and surface finish. The bed sideways of the machine are precision ground and highly accurate along the total length of the machine.
We, at Yash Machine, offer you lathe machines of optimum quality assuring of durability and high productivity. Apart from these lathe machines, we also have other high caliber machines at our disposal such as- Radial Drilling machine, Sheet Metal machine, Welding machine, CNC Cutting Machine, Press Brake, Band Saw machine, All Geared Radial Drilling Machine, and many more.
Our Equipment boasts of superior quality at an effective price and ensures that it meet all the requisites of our client, facilitating them in their required application.