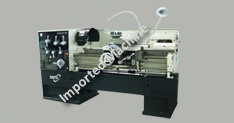 Lathes basically perform a variety of operations on solid materials like metal and wood that includes cutting, boring, reaming, threading, sanding, deforming, knurling, and drilling. These days imported lathe machines are widely used to fulfill the diverse requirements of several industries. Hence entrepreneurs from many Western as well as Asian nations such as India are now importing lathes from other countries including China.
The broad range of imported lathe machines include all the types of latest and commonly utilized lathes machines such as the vertical turning lathe machine; and all geared lathe machine like light duty lathe machine, medium duty lathe machine, heavy duty lathe machine, extra heavy duty lathe machine; as well as CNC lathe machine like flat bed CNC lathe machine, slant bed CNC lathe machine, and many more.
Imported Lathe Machines
The advantages of buying an imported lathe for a workshop are explained further.
First of all the imported lathes are manufactured using the latest technology and incorporate highly advanced mechanism. These machines are also sturdy and durable and can be operated constantly at a higher speed. They are capable of delivering very precise output and need comparatively less maintenance and have lower downtime.
Basically imported lathe machines are built as per international standards and are also affordable. Moreover the top grade imported spare parts are long lasting. And since they are authentic and guaranteed it minimizes the chances of replacing the machine components frequently. The other features of imported lathes include accurately ground bed sideways, dynamically balanced spindle and highly precise machine parts. Even the machine screws are protected with a metal cover in order to avoid the dust accumulation. This also helps to safeguard the operator from accidents.
These superior quality machines have a modern exterior design and better surface finish. They also have a larger spindle bore, light lathe bed, robust and ground guide path. Besides this imported lathes are engineered to meet the latest safety guidelines and industry codes of practice. Hence the machine operator feels much safer and more comfortable while using them. They are available in numerous designs and different specifications.
It has a tough cast iron structure, bed, head stock and saddle; along with a high spindle torque,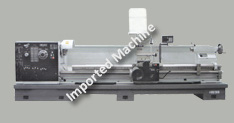 automatic lubrication system, mechanical clutch or electromagnetic clutch. The latest type of gear box and high precision spindle structure enables a higher head stock performance. The sturdy bed and hardened guide ways assure uniform operation and higher durability of the lathe machine. It even has a fully enclosed feed box that facilitates a wide range of thread machining.
The imported machinery also includes CNC lathes that have a powerful axis drive, and a feedback control to monitor and maintain the tool position. They can function at a higher speed, and accurately perform repetitive and complex machine tasks. The related process is programmed and loaded on the machine. The operation is automated and can also be reset as required without any manual adjustments. Hence a variety of imported lathe machines are nowadays used worldwide.