Having a bandsaw machine is essential to any woodworking workshop. These machines are useful for cutting, trimming and sizing wood, which is used to build different types of furniture and fixtures. You can also use them for cutting plywood, laminates, and other materials. Generally, the bandsaw machine comes in different designs and models, including manual, semi-automatic, and automatic.
What is the Use of Blade Deviation Sensor and Control System in Bandsaw Machine?
During a cutting operation, the saw blade is subject to side forces that can cause deviation. To prevent this from occurring, a band saw machine is equipped with a blade deviation sensor and control system. The sensor and control system can be used to adjust the force and speed of the band saw blade while in operation. The system can be designed to either dynamically adjust the force and speed of the band saw or to adjust the band tension by a pre-determined factor.
The band saw blade is a flexible metal blade that circulates around a pair of pulleys. The blade 25 is mounted on a cutting saw head 12. The saw head is configured for rate and force adjustment.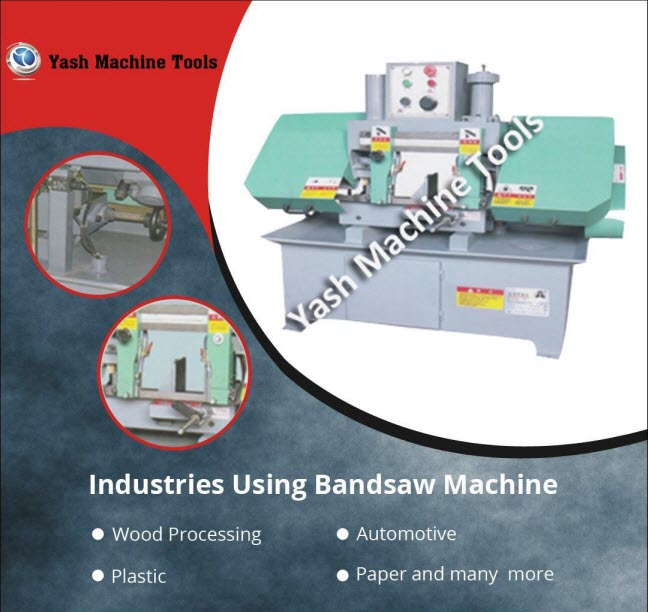 What is the Importance of Upper-wheel guard in Bandsaw Machine?
Among the many bandsaw components is an upper-wheel guard. This allows you to track the blade. The guard is adjustable to suit your needs.
This device fits a wide variety of floor model bandsaws. The guard can be mounted to the side of the upper housing or the front door.
The upper wheel can be tilted up or down, and may be crowned to keep the blade running in the centre of the wheels. This allows you to track the blade without moving it from the workpiece.
The guard is made of heavy material. The edge of the guard should be at least three-eighths of an inch from the plane of the feed roll.
Idler Wheel Bearing in Bandsaw Machine
Depending on the machine type, the idler wheel bearing may need to be replaced. It can also cause bevelled cuts. It is important to keep the band saw properly maintained to avoid these problems.
The bandsaw machine includes a drive motor and a drive wheel. The drive wheel is affixed to the rotor shaft of the motor and is driven by a belt and pulley drive. The drive wheel is stationarily mounted to the bandsaw machine, or it may be moved away from the idler wheel.
Bandsaw Machine Shuttle-vice Style Model
Unlike a traditional roller style bandsaw machine, a shuttle style model offers better performance. A shuttle style bandsaw machine uses a vice to secure material in the proper position while cutting. It is also much more robust than its roller style counterpart.
In addition to making cuts, a shuttle style bandsaw machine has a few other features that can help make your operation easier. A typical shuttle style bandsaw has a gauge and a tension control device. It is also possible to add a top clamp to prevent individual pieces from popping out.
The tension control device is important because it keeps the blade at the correct tension for optimal performance. This device is usually a hydraulic cylinder connected to a PLC controller. It may need to be adjusted depending on how much material is being cut.
Manual Feed and Power Feed in Bandsaw Machine
Having a power feed or manual feed can help you get the job done. However, you must ensure that the feed is working well before you start cutting. A worn or damaged pivot bar can cause vibrations that can damage your bandsaw. If you're experiencing problems with your machine, you may need to make some repairs.
One of the most important features of a bandsaw machine is its tension control device. This helps prevent blade breakage by ensuring proper tension. The device is comprised of a hydraulic pressure switch, pressure cylinder, and a PLC controller. It also helps clamp thin walled structural materials without deforming them.
What are the Different Benefits of Semi and Fully Automatic Bandsaw Machine?
Whether you're looking to cut solid materials or a bundle of materials, a fully or semi automatic bandsaw machine can provide the best solution. In addition to their affordability, they also have the added benefits of reliable automation.
Fully automatic bandsaws are ideal for production facilities. They have an extremely high level of automation and will continue to perform even if the operator walks away. They also have a high level of accuracy, enabling them to eliminate secondary machining operations.
A semi automatic bandsaw is ideal for production facilities, as well as workshops. It's an affordable way to cut metals. It's also very efficient, making a single cut while reducing labor costs.
The Bottom Line
The bandsaw machines are made from high-quality materials, giving them qualities like great durability and sturdy structure. Additionally, a powder treatment on the surface protects against corrosion.
The series has advantages like simple installation and low-cost maintenance to fulfil the needs of the application regions. These devices are made to withstand extreme pressure and have a high degree of durability.