A vertical milling machine is a type of machine that cuts metal into a predetermined shape. Vertical milling machines are used in a variety of industries. While there are several advantages to using a vertical milling machine, some businesses may be better off investing in a horizontal milling setup instead.
Choosing the Right Milling Machine
Whether you're building a house, using the right tools for the job is important. It can protect you from damaging equipment, worker's comp costs and wasting time. Similarly, when you're choosing the right vertical milling machine for your shop, you should choose the one that's most compatible with the type of materials you use and the types of projects you typically complete. This will help you maximize your productivity and get the most out of your investment.
As you grow your business, you may want to transition from a vertical milling machine to a horizontal milling machine. Horizontal machines are more versatile and can handle heavier materials. They can also take larger beds and can cut deeper than a vertical mill. However, they require more floor space than a vertical milling machine.

Tips for Maximizing Productivity with Your Vertical Milling Machine
When it comes to maximizing efficiency with your vertical milling machine, there are a few key tips and best practices that can help. By following these recommendations, you can increase your productivity and save money in the long run.
First and foremost, it's important to use the right tool for the job and at the right time. This will ensure you avoid damaging your equipment or the workpiece. It also ensures that you don't cause unnecessary injuries and waste precious time. It can be especially dangerous to use a tool that is unsuitable for the task at hand, such as an ill-suited drill bit.
Another key tip is to choose the proper milling machine for your specific needs and budget. Choosing the wrong one can significantly delay your project or cause you to make costly mistakes, so be sure to consider all of your options before making your purchase decision.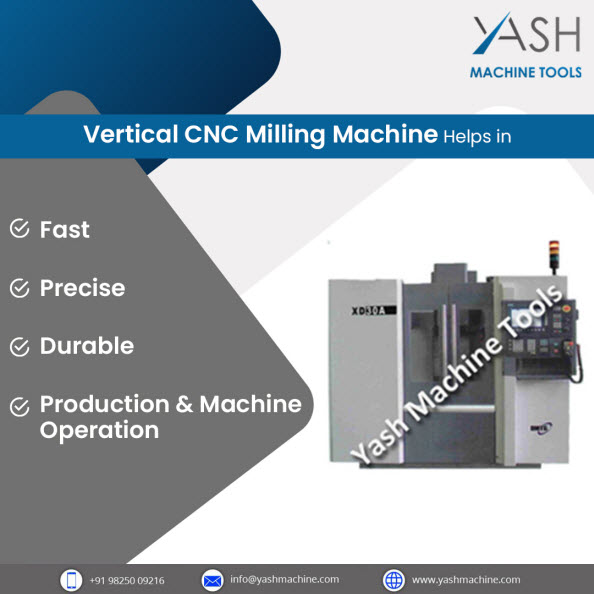 Considerations of Positioning and Stability for Vertical Milling Machine
When working with a vertical milling machine, make sure the workpiece is in the correct position. This includes checking the table, the taper in the spindle, and the arbour or cutter shank to ensure they're free from nicks and chips.
The workpiece should also be in a place where it's stable enough to prevent springing or bending. This is particularly important if it's made of fragile materials like paper or wood. Using the wrong tool on a frail piece can cause it to break or crack, making it difficult to complete your project. It's best to avoid using coarse feeds and deep cuts if it's in this condition.
While there are many advantages to vertical milling, you should also consider the size, shape, and overall budget of your project. Generally, a vertical machine will be more suitable for lower-volume production tasks and less-complex work.