Hydraulic press automation systems have many benefits that can improve a manufacturer's production process. They can also help to increase productivity, reduce costs, and improve product quality.
Today's hydraulic presses use programmable logic controllers (PLCs) to provide increased automation and quicker response times. This reduces energy consumption and prevents breakdowns.
Hydraulic Presses Increases Productivity
Hydraulic presses are used for a wide range of applications in the manufacturing industry, from forming tough titanium housings and tuba bells to bending hardened road grader blades. They also are used in laboratory testing and sample preparation, allowing manufacturers to test the quality of their products before putting them on the market.
As a result, hydraulic press automation systems are becoming more important than ever to boost efficiency while decreasing product quality issues. For example, if the machine's control system is programmed to automatically adjust the press's ram force and direction based on part "recipes," it can save manufacturers time and money.
In addition, the full power of a hydraulic press can be delivered at any point in its stroke, which offers advantages for deforming operations. The ram can be made to approach work rapidly and then shifted to a lower speed before contacting the work, promoting tool life and reducing the risk of damaging or breaking the die.

Lower Maintenance Costs by Using Hydraulic Press Machines
Hydraulic presses are a more cost-effective solution than mechanical presses, as they have fewer moving parts. This means lower maintenance costs and a longer lifespan for your press.
One example of this is in the space industry, where hydraulic forming machines are used for manufacturing complex components. They can bend metal without creasing or rounding, and they can form multiple parts simultaneously.
In addition, because they have a very compact footprint, hydraulic presses can be used in areas where space is limited. This allows companies to optimize their facilities' assets and increase efficiency.
Performing regular maintenance on your press can help to extend its life and prevent problems from occurring. This includes checking the ram seal, bronze bushings, flexible intake lines and other important elements.
Increased Safety with Hydraulic Presses
Hydraulic presses are a critical piece of machine shop equipment. They help manufacturers shape metal parts into different shapes and sizes.
However, hydraulic press machines can be dangerous if operators don't use safety precautions. Accidents can be prevented with proper training, eye protection, and safety footwear.
Fortunately, modern presses are designed with a variety of safety features to keep workers safe. Guards, interlocks, electro-sensitive and op-to-electronic devices, emergency stop systems, and other redundant components safeguard operators from potential harm.
The safety of your employees is important to your operation's success. It's your responsibility to train them how to operate the hydraulic press safely and how to recognize warning signs of machine failure.
Several issues can cause a hydraulic press to fail, including oil leaks and overheating. By addressing these problems before they result in machine failure, you can decrease your maintenance costs and increase your uptime. This is especially true if you use energy-optimized hydraulic systems.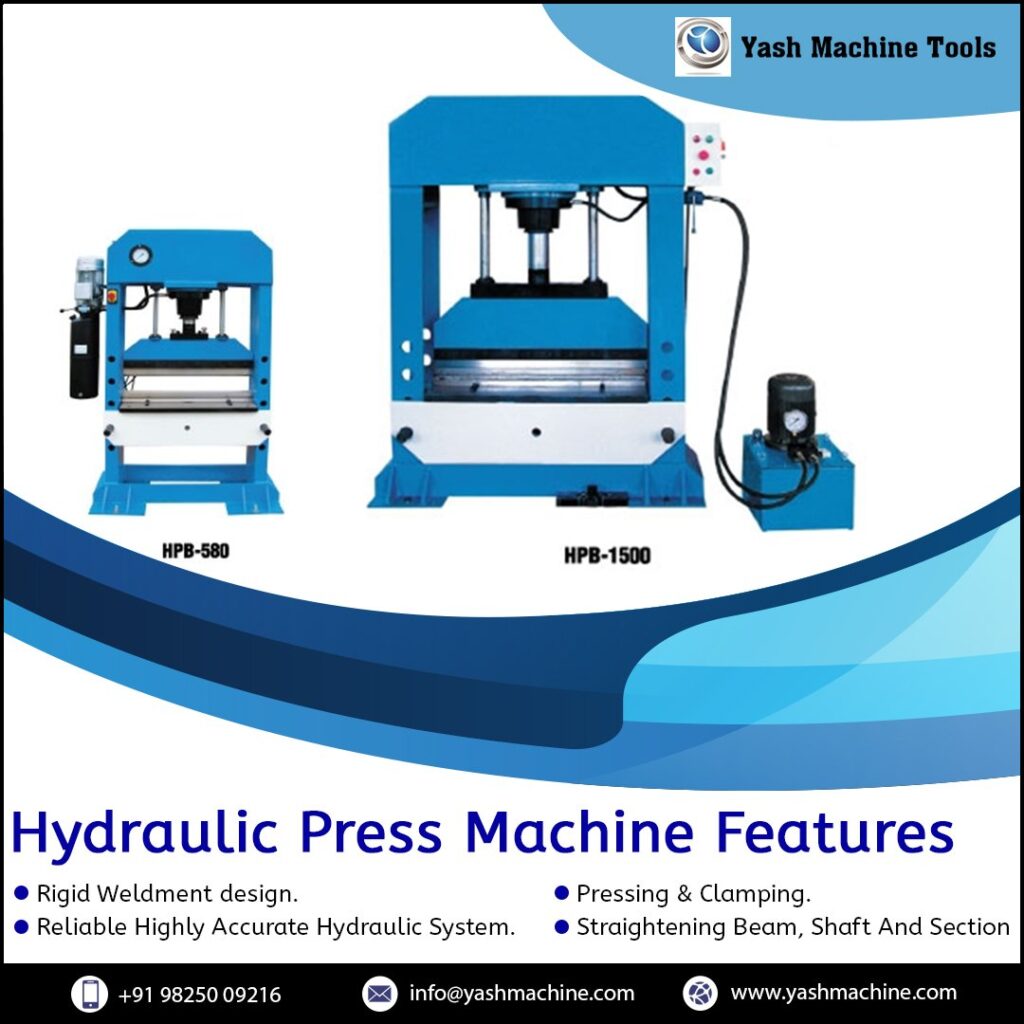 Hydraulic Press Machine Reduces Downtime and Maximizes Productivity
Hydraulic press automation has the ability to reduce downtime, which can be a significant cost for a manufacturing operation. This reduction can help to increase productivity, which ultimately results in more profit for the company.
For example, electronic controls can monitor job status, advance feed lengths, check progressive dies, vary press speeds and guarantee all press functions are operating properly. This helps to improve productivity by reducing downtime and engineering changes.
This technology is available through many press manufacturers. It can be a cost-effective solution for companies with large presses, or those that have several presses. It is important to choose a partner who has the right expertise for your needs and can provide a solution that will fit into your production workflow. This includes partnering with a press manufacturer who is also an authorized system integrator. This can give the customer a better view of potential process improvements and allow them to leverage their investment in their press.