Chamfer Machine is being used by many manufacturers today. The chamfer is a type of metalworking that uses a tool with one or more sharp cutting edges and a grinding wheel at the centre to move the tool over an item that needs to be ground or ground into a smooth surface. In most furniture designs, chamfer machines are often used to smooth or ease the edges of corners, tables, and other furniture pieces. The chamfer is the word for a type of metal boring.
Why Use Chamfer Machine?
There are many reasons why manufacturers make a chamfer out of the material of the item being ground. The main reason why is because the abrasive material can cut through the material's edges and flatten the edges as well as make it smoother. It also makes the edges sharp, making them less likely to cause the need for deburring. This is because the product edges are already flat.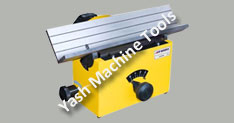 Why You Should Buy Chamfer Machine?
When purchasing a chamfering machine, you should know the kind of work that you will do with it. You should choose a chamfer that is ideal for the work that you will be doing with it. If you want your machine to work better on metal pipes, then you should get one that works best on them. For the best deburring of plastic pipes, you should get one that works best on plastic pipes. You should also get the right size of the chamfer for the pipe that you have.
Although most people think that these types of machines are only used for making metal and plastic products, other types of chamfers are available in the market. These types of machines include fully automatic and manual chamfering systems. A fully automatic chamfer works by itself. Manual chamfering machines, on the other hand, are usually operated by a person.
Advantages of Chamfer Machine
A fully automatic chamfer machine will usually need minimal maintenance while a manual chamfer will usually need more attention. The chamfer is very important equipment that can help you make sure that your objects are free from sharp edges. Sharp edges pose a great risk to the health of the users if not eliminated properly.