Metal shaping or cutting was left to the responsibility of labors in those days where machining was depended on manual effort to a great extent. Several innovations have been made in the field of metal equipments to transform complicated tasks into much easier and precise ones. Yash Machine Tools, a leading components supplier in India has been into the service of manufacturing and supplying extensive systems range to tackle intricate machining actions effectively. We are one of the popular workshop equipment manufacturers and suppliers of them which are applied for engineering industries.
We have special range of cutting equipments which are preferred in top industries like construction, automobiles, electronics and air craft. We have radial drilling, CNC milling, planning and turret mill. We are specialized in supplying extensive range of lathe apparatus suitable to manage multiple options apart from just shaping or bending.
The Perfect Home for Lathes
We design lathe machines with CNC and all geared technology with different capacities in shaping metals. Starting from light duty, to medium, heavy and extra heavy duty to CNC embedded lathes, Yash Machine is the perfect zone to find the best models which are suitable for your industry.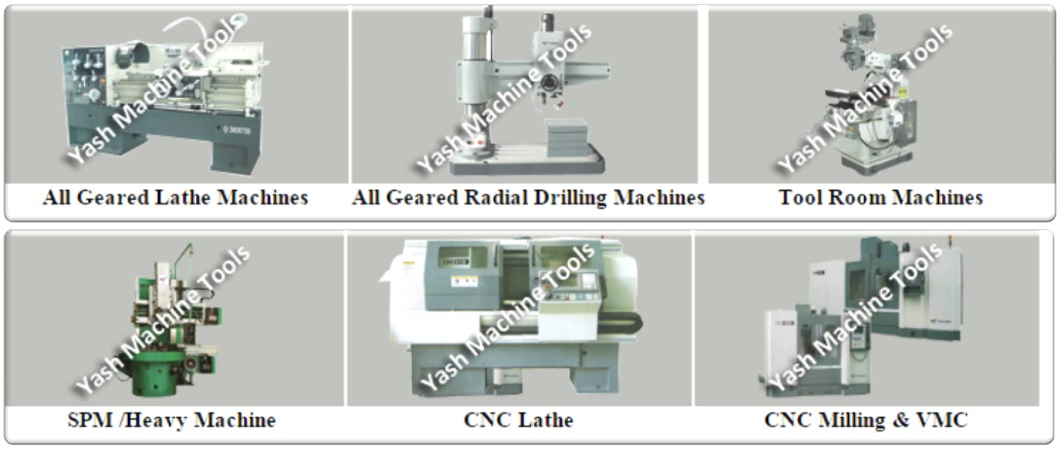 More Types of CNC Embedded Machines
Next to lathe, we provide high performing workshop equipments with automated functionality such as the CNC vertical machining center, CNC gantry type machining center, CNC Milling & VMC which are exclusive designed to support complicated milling requisites.
Different Types of Grinding Tools
Grinding metal components or wood or any material for instance becomes perfect only when the machining process remains accurate. We also supply compact grinders, drill bits and end mill grinders, chamfering and screw blade grinder which are designed in view of supporting intricate grinding requirements.
Exclusive Tools to Support Sheet Metal 
Metal shaping is an art and there is no metal work that can be considered perfect if precision is lost. apparatus like power press, hydraulic press, plate rolling and section rolling, bordering and horizontal bending press are some of the important devices supplied by Yash Machine Tools which are also customized as per the industrial production demand. These apparatus are made from tested and durable components which make them stay strong for long term production.
Advantages of Buying Components 
Economic Pricing.
All equipments are designed to match international standards.
Durable in functionality.
Robust in structure.
Featured with high speed capacity.
Also available with CNC provision.
Less maintenance.
Supports metal and engineering industries.
Competent to Imported machine tools.
More options of systems available to support multiple apparatus options.
Provides precise finishing in quick time.
Featured with excellent technical specifications to suit modern industrial demand.
For more imformation, visit www.yashmachine.com