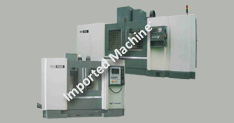 A milling machine is basically a machine tool that is widely utilized for machining hard materials. They are generally used in the metal working industry to shape solid items by removing the extra material in order to form a finished product. Milling machines are available in two primary forms namely horizontal and vertical, depending on the orientation of the main spindle. They may differ in size from small bench mounted models to large room sized machines.
This milling machine is a versatile tool that can be used for various operations such as keyway cutting, slot cutting, threading, routing, planing, contouring, drilling, and die-sinking. A cutting fluid normally flows over the cutting area for cooling and lubricating the cut and for washing away the residues. The milling machine has the ability to cut a broad variety of metals that includes aluminum and stainless steel. The speed of this machine tool can be adjusted to run slowly or quickly depending on the material to be cut. Usually all soft materials are milled at higher speeds, whereas the hard materials can be milled at a slower speed. Moreover, the harder materials are generally milled in smaller quantities at a time.
Milling Machines
Milling machines are either manually operated, mechanically automated, or digitally controlled
via computer numerical control. These machines have gained immense popularity amongst many small as well as large enterprises throughout the world. Hence if you have decided to own this equipment for your business, you should consider the following tips for buying a milling machine.  Generally it all depends on your budget limits and specific requirements.
Thus you should first of all plan your budget. Basically it is the amount that you are ready to invest for the milling machine. However you should note that in case the actual cost of the equipment exceeds your budget; then what will be the maximum amount that you will be ready to spend. Hence it is advisable to set an upper limit of your budget. Thereafter you can visit a nearby showroom that sells milling machines and choose the suitable equipment. The dealer will provide details about the various models and guide you to take the right decision.
Besides this lots of people now prefer to purchase equipments through the internet. This is due to the fact that it is very convenient and also saves your time. Moreover there are several websites that offer a variety of milling machines. Hence you have a wide choice to decide and go for the model that meets your exact needs, and is also within your budget.

Further you can browse multiple websites to compare the price and features of the same model and then pick the required machine. Another significant factor is the credibility of the supplier. Hence you should buy from a reliable manufacturer and also ensure that they offer comprehensive warranty. It is also recommended to confirm the availability of spare parts for the milling machine. And lastly the chosen dealer should also provide prompt after sales service.