All Geared Lathe Machines, Types, and their industrial application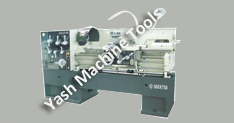 Lathes work by revolving a work piece on its axis for cutting, sanding, deforming, turning, drilling among other functions. The machine is capable of performing these functions on plastic, wood or metal to produce symmetrical objects. The lathe machine consists of various parts such as head stock, spindle, bed, tool rest, lock knob and tail-stock. Over the years technological advancements have been used to improve the design and functionality of lathe machines to suit various industrial needs. All geared lathe machine is among the popular set of lathe machines and includes various types such as:
Light duty lathe machine– it is mainly used for precise shaping and deforming of small items. It has the capability of operating effectively in high speeds. It is long lasting due to the durable structure. The industrial applicability of Light duty lathe machine is mainly in workshops and tool production. As a user of this machine you will be able to simply install it and use minimal effort to maintain its functionality.
Medium duty lathe machine-This type of machine finds high industrial applicability in workshops, paper mills, tool production and power plants where they are used for precise grade machining. The advantage of medium heavy-duty lathe machine is in the efficiency to use resources sustainability, bulk production of quality products, high durability and multipurpose capability.
Heavy duty lathe machine– This type of machine is industrially used to turn very hard objects for purposes of metal and woodworking in industries such as paper, power plants, and mining. It is made of durable and sturdy materials that incorporate modern technology capable of handling the heavy-duty work involved.
Extra heavy-duty lathe machine– handles heavier materials and objects for bulk production. It has industrial applicability in mining, shipping, and power plants for top grade machining work and so on and so forth.
CNC lathe machines, Types and their industrial application
Computer Numerical Control (CNC) is a modern technology that is widely used in manufacturing industry. CNC lathe machine has replaced the traditional machines which required trained personnel to operate. This technology is accurate and works digitally by the user pre designing the object and programming the tool path. The lathe then proceeds to automatically produce the object and the user may alter the process as required through a computer screen. The two types are Flat bed cnc lathe and Slant bed cnc lathe the difference being in the elevation of the bed. Some of the associated advantages of using cnc lathe machineare 24 hour day use, easier programming, easier updating and capability of mass production of the same item. Industrially applicable in precisely curving complex shapes and forms.
Read more in detail for All Geared Lathe Machines & CNC Lathe Machines.
Conclusion
All geared lathe machine have a wide industrial application hence making the machine an essential part of many companies which deal in metal, wood and plastic. The technology used in lathe machines has continued to advance over the years to cater for the dynamic and versatile industrial production segment.