Mahatma Ghadhi stated that "live as if you were to die tomorrow. Learn as is you were to live forever". In this regard, tertiary education institution such as universities and colleges are always innovating and developing new solutions to current problems. Most popular research in mechanical and civil engineering involves developing new products, prototyping, materials testing.
Different types of drill equipments find immerse applications in training institutions as well as research and design centers.
Use in engineering education
Engineering training impart practical skills to students. Most engineers, technicians and plant operators are required to develop physical products as well as perform laboratory testing of some materials. Engineering institution must therefore have different types of these machines.
Students use radial drill to perform heavy duty boring on large work pieces. The radial and bench drill allows students to cut holes at different angles and depth with precision. Therefore, institutions training mechanical and civil engineering must have radial, pillar and bench drills to perform various operations during their practical sessions and in development of their projects.
Due to increased mass production, students are currently being trained on computerized drilling operations. This necessitates the use of CNC drilling machine. One major problem with conventional drills is the enormous time wasted when changing tools and aligning work piece. CNC overcome these difficulties and are therefore a must have equipment for all training institutions. CNC are suitable for high variable work piece, low volume, and unique jobs. They allow for quick work change and precision boring.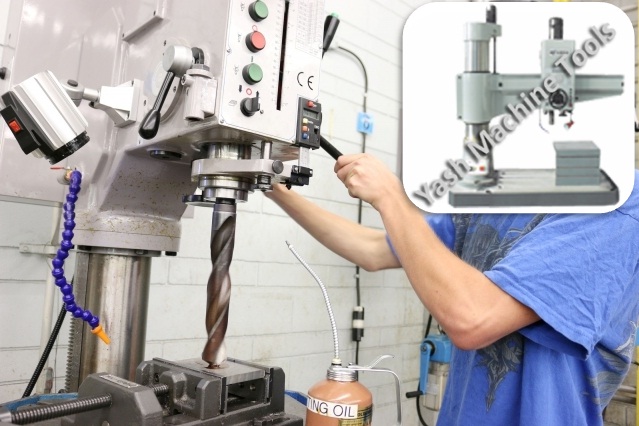 Features of education drill machines
These devices are sturdy and able to withstand heavy loading and shock. They also come with extra features that allow students to understand the machine when using them.
In addition, they are manufactured to precision to enable the technicians and engineers bore materials perpendicularly and achieve the required accuracy and precision. The machine bed, clamping table, radial arm, pillar and base are heavy and machined to flatness and levelness.
These machine tools must also have extra safety features. They are specially designed for increased safety since trainees are not well qualified. They have an emergency stop button to stop the machine immediately. They also have safety guards that shield all moving parts to minimize accidents.
The CNCs used by education facilities is versatile with numerous functions that encompass drilling, shaping and some form of milling. They can get inputs from a computer drawing or from program and implement operations automatically.
Use of drilling machines in research and design
Mechanical engineering R&D is about developing new techniques and using better materials. The development of prototypes and models is a must in research before they are tested. These designs include; new engines, flywheels, gear boxes, transmission lines, hydraulic systems, pneumatic systems, car bodies, chassis, equipments, tools just to mention a few.
The development of these models before subsequent testing and redesign requires extensive drilling.   The types used in these labs have ultra high precision and their table, pillar, clamping set, and other marts must resist any bending in order to cut straight and perpendicular holes. Most R&D shops use CNC types due to its accuracy, functionality and ability to link 3 dimensional models to drill operation.