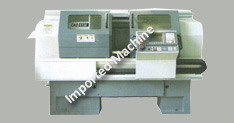 A Lathe machine is used in the mechanical industry to cut, thread, sand, make grooves, drill, bore etc. Over a period of time lathe machine has advanced with advancement in technology.
Today we have computer operated lathe machines, or CNC lathe machines (Computerized Numeric Control). Computer operated machine means a better end product, so the products made by CNC machines have better finish and multiple pieces of the similar design can be made easily.
Lathe Machines
A lathe machine has a base which is known as 'bed'. This is linked with headstock. The metal or wood piece to be worked on is kept on the axis and revolved to perform the required functions. It can be rotated at various speeds and the cutting tool is controlled by power or by hand.
The different types of lathe machines available in the market today have raised vast opportunities and challenges for Indian manufacturers. These machines are powerful but simple to use. You can select a machine that suits your requirements the best.
Opportunities and Challenges for Indian Manufacturers
Technology is integrated in a lathe machine and Indian manufacturers have to overcome a number of challenges in order to keep pace with the growing demand of lathe machines with latest technology.
As technology has advanced so have the designs of lathe machines. Indian manufacturers are making lathe machines of different types and different sizes based on the requirement of the industry. Today lathe machines are made with the latest technology for better products. A range of types of lathe machines are available in the market.
Not just the challenges, Indian manufacturers are getting more opportunities as well. More manufacturing units mean more workforce which in turn means more employment for people. The manufacturing networks have grown worldwide.
Manufacturers are facing a lot of competition today from local as well as foreign market. Lathe machines imported from other countries are more advanced and these are made with latest technology and advanced features. In order to keep up with the import market, Indian manufacturers are also making superior machines with new and advanced technology.
Lathe Machines with Technology Integration
CNC lathe machines have CAM process installed in them. These machines can be controlled with a computer which can be programmed to do a range of jobs like drilling holes, creating screw threads etc. Symmetrical pieces of work are made with these machines. These lathes are also used for fabrication work. When a number of pieces of the same design and size have to be made CNC lathes are the best choice.
Products using glass, wood and metal are made with lathe machines. Goods like musical instruments, baseball bats, candle stands and many more can be made using these machines.
Conclusion
Every industry needs machines depending on their requirement. New and more advanced machines are being made as there is continuous demand for advanced machines. Indian manufacturers have taken up the challenge and the opportunity to produce new designs of lathe machines with latest technology.