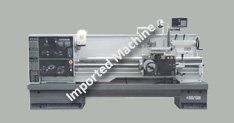 The lathe is basically a machine that is used for shaping materials like wood or metal, by revolving it quickly along its axis, while pressing a fixed cutting, or grinding tool against it. Lathes help to produce accurate and uniform grooves around the surface of the material. A wide range of lathe machines are available in the market, depending on the job that needs to be accomplished in the workshop.
This includes light, medium, and heavy duty lathe machines. They are used to carry out different metal shaping tasks in various industries. The heavy duty lathe machines are mostly preferred for industrial applications that require bulk metal forming.
A heavy duty lathe is an efficient tool for crafting different objects. The machine is designed to handle the toughest shaping jobs in numerous industries and several workshops. It is primarily a user friendly machine that helps to cast a variety of shapes from wood or metal using easy to use controls. The advanced technology has now enabled to produce models that ensure faster, cleaner, and precise shaping tasks; in order to meet the bulk processing requirements of many industries within the shortest possible time. Simple installation, robust construction, higher durability, and energy saving features are some of the outstanding characteristics of this machine.
Heavy Duty Lathes
Heavy duty lathes are built using high quality materials and incorporate state of the art technology. The various models vary in specifications related to the height of center, width of bed, maximum swing, spindle type, travel time, etc. They are highly efficient machines and are especially used for high volume production. It is an ideal machine for metal working, wood turning, and metal spinning applications
in workshops and tool rooms; as well as for metal fabricating tasks in repairing shops, power plants, steel rolling mills, ship building, paper mills; textile, oil and mining industries, etc.
Heavy duty lathe machines are perfectly designed, sturdy machines to assure longer life and optimum performance in large scale metal and wood working tasks. These ultra modern machines are equipped with highly developed technology in order to ensure maximum and superior quality output using relatively less resources. They are primarily constructed for high end lathe machining work. Further this machine is also capable of executing multiple tasks on tough sheet metals, and deliver highly precise output.
The heavy duty lathe machine is mainly utilized in heavy industries and high end operations that involve large scale quantity. They are highly effective and versatile; and can operate at a greater speed. Low noise and less vibration are some of the attractive features of this machine. It can accurately and continuously operate for a longer duration as per the specific requirements. Moreover, they are built from top grade, non corrosive raw materials. They are preferred for their precise dimension machining, premium finishing, and high tensile strength. These zero defect machines are fabricated and also thoroughly tested as per the industry standards. Hence, they are widely used in a several heavy duty industrial processes.