Hydraulic Swing Beam Shearing Machine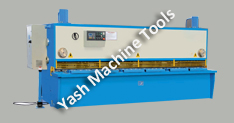 This is the latest shearing machine used in market today. It is a shear model designed with high quality material providing durability for several years usage in heavy duty without any failures. Hydraulic swing retains high rigidity and can work in maximum capacity since has a strong well weld mono-block frame. This feature also helps provide a clean cut and high quality services. It can be applied where modern design, durability and sheets 6-20mm thick production is required.
Benefits of Hydraulic Swing Beam Shearing Machine
Hydraulic swing workshop machine is user friendly
has durable blades
has a front and back sheet conveyor system
easy installation and training is required
ergonomic design
low maintenance hence convenient
no damage to the blades and machine while cutting
hydraulic and electrical systems involved are simple for servicing purposes
it is designed for heavy duty
Hydraulic Guillotine Shearing Machine
This workshop machine is made of high grade steel, has rugged construction as well as provides efficient performance. It is one of the machine tools with a framework structure designed for all steel welding. Its replacement is facilitated by equipping the Hydraulic Guillotine Shearing Machinery with a mobile workbench, stroke digital display and an optoelectronic protection device. Depending on the nature of processing requirements, the working pressure can be adjusted within specified ranges. Hydraulic guillotine type plate shearer has centralized button control hence easy to operate. This workshop machine is applied in industries dealing in precision sheet and plate working.
Hydraulic Guillotine Shear Machinery offers the following benefits to customers:
Its steel weld frame structure possesses good stability and rigidity
sheet distortion is highly reduced due to use of adjustable shearing angle
has a high integrated hydraulic system hence reliable and durable
rectangular blades can accommodate up to four cutting edges hence long service life
uses hand wheel for accurate, fast and convenient adjusting of the gap between the blades
CNC Guillotion Shearing Machine
This is also a widely used shearing machine by customers worldwide. Like other shear machine tools, it is built with steel for increased strength and rigidity. The sheet shear equipment maintains sheet and plate precision working by having a vibratory stress relief. The applications of shearing machine depend on the processes requirements of an industry; mostly constructed for heavy duty to work in maximum capacity without failures.
Benefits enjoyed by CNC Guillotion shear model users include:
safe and easy operation
reduced plate deformation sue to adjustable rake angle
has adopted advanced integrated hydraulic system for excellent reliability and durability
hand wheel clearance of the blades increases accuracy and convenience
It is important to know the applications of shearing machine before purchasing. The obvious reasons being to avoid either under working or overworking the equipment. Specifications of each tool will always be given by the manufacturer for review so that maintenance does not become a nightmare. Benefits of using a shearing tool should be satisfying to industrial needs of the user.