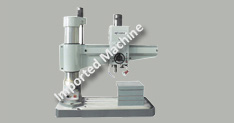 To drill holes in different materials, a drill machine is used. It is also called a drill press. Holes of different sizes and depth can be made using this machine.
Main types of drill machines are, Pillar Drill Machine, Drilling cum Milling Machine and Radial Drill Machine.
Radial Drill Machine
In a radial drill machine, the drilling head is on a radial arm, which you can lift, rotate, or lower in order to regulate the place of the drill over the piece of work. This machine is very flexible as the location of the drill can be adjusted according to the size of the piece of work. It has a movable spindle.
These machines are available in a range of sizes of the drill heads, base plate and the capacity. They are very accurate and holes of different sizes can be drilled in various materials like metal, wood etc.
Radial drill machines are designed for very accurate, precise, and proficient work. These are very sturdy and can do hardwearing work. The holes are drilled by means of a drill bit which glides alongside the radial arm. The radial arm moves along the piece of work and enables the drilling process without having to move the heavy work piece.
You want a drill machine which is easy to use. An imported radial drill machine is a good choice for workshops as it is available in compacted size and has advanced features. As the machine size is compact you don't need very big place to keep it. It is built with most recent technology adhering to the international standards. Since the machine is fully automatic the work can be done faster and more efficiently, saving time and endeavor.
Applications of Radial Drill Machines
These machines are used in;
Industries working with metals like metalworking, manufacturing, woodworking, masonry, construction etc.
To drill holes in different materials.
For jobs like reaming, tapping, spot facing, counter sinking etc.
Safety tips for using Radial Drill Machine
Be very attentive while using this machine to avoid accidents.
Drill bits which are bent, damaged or dull should not be used.
Materials without flat surface should not be used for drilling.
Do not wear gloves or neck ties while using the machine.
Clear the table before switching on the machine.
Points to consider while buying an Imported Radial Drilling Machine
Before buying an imported radial drilling machine the most important point to consider is the features offered by the manufacturers. The controls of the machine must be user friendly so it is easy to use.
The components should be of fine quality. For profitable and skilled functioning of the machine it must have various speeds for the spindle, for fast drilling work the spindle's speed change is necessary.
Check the design of the machine and make sure it is strong and powerful enough to execute work for a long time. Buy an imported machine with various functions so that it can be used for jobs other than drilling e.g. boring, tapping, counter boring etc.
Conclusion
Imported Radial drill machines are very accurate and efficient. These are designed for the defined requirements of the industry and can be used for various materials.