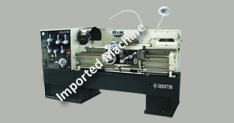 Before the lathe machines were invented metal working was done manually. It was difficult and time consuming. Lathe machines have made things easy, lathes are time saving as the work can be done faster, money saving and energy saving, multiple pieces of the same design can be made
Metal lathes are generally used for cutting, grinding, drilling, reaming etc. hard and heavy materials such as metals. They are also used for cutting materials like wood, plastic and glass.
Lathe machines are used in factories, industries, manufacturing units and ware houses. The object to be cut is rotated around a spindle for giving it the desired shape. Depending upon the type of work, lathes are available in many sizes and types.
Each type of lathe machine has its own unique features and are used for different functions like bending metal, shaping wood, cutting stone, sanding glass etc. Lathes are also used to shape pottery. As these machines are efficient, fast and time saving they have made a huge variation to the industry.
Imported lathe machines and local lathe machines
Now with the imported lathe machines being available in the Indian market, there is tough competition among local manufacturers and suppliers of imported lathe machines. As a result market is benefiting from this competition. The consumer is getting a better and a more advanced variety of lathe machines.
Types of Lathe Machine
Imported lathe machines are fast, easy to operate and easy to maintain as wear and tear is minimum. These are being used in the automobile and railway industry. Latest technology is used to manufacture these CNC lathe machines. Some of the imported lathe machines include;
Light Duty Lathe Machine – Its drive is V-belt and it is often used to form small size objects and bending jobs done at workshops or tool rooms. The work is of high accuracy and the machine is built to work in difficult surroundings. It is very strong, durable and easy to use. It is used in electronic, automobile and electrical manufacturing units.
Medium Duty Lathe Machine – These are very durable and accurate lathe machines. It is appropriate for steel rolling mills, power plants, workshops, paper mills etc.
Heavy Duty Lathe Machine – A very efficient machine used for metal working, spinning and wood turning. Large scale metal and wood work is done using these machines.
Roll Turning Lathe Machine– A strong and powerful machine used in rolling mills to make cylindrical rolls. It is used in power plants, ship building, paper mills etc.
All Geared Lathe Machines – These imported machines are very efficient and the products made are very accurate with zero error.
Flat bed and slant bed CNC lathe machine – Made with latest technology the products made are of high quality and accuracy.
Ornamental lathe machines – These lathes can make very complex three- dimension objects. Some objects that can be made on a lathe are musical instruments, baseball bats, bowls, legs of tables, gun barrels etc.
Conclusion
With the competition among local manufacturers of Lathe machines and the suppliers of imported lathe machine in India becoming tough, local manufacturers are manufacturing lathes with latest technology and of international standards. The market has benefited as better machines at lower cost are available to the consumer.