Bandsaw machine is widely been used in industries for metalworking, woodworking, lumbering as well as cutting varieties of material like plastic, wood, and metals of different shapes. The machine consists of a continuous band that is been stretched between two or more wheels for cutting the material. Basically, there are two types of bandsaw machine that includes a vertical bandsaw machine and horizontal bandsaw machine. Horizontal bandsaw machine is used for cutting a variety of material such as plastic, wood, or metal. Vertical bandsaw machine provides an ease of cutting for materials of complicated shape.
Demand for Bandsaw Machine
Due to the growth of wood industries, it has attributed to the high demand of bandsaw machine across the globe.
There is also an increase in demand of imported bandsaw machine in the metal cutting industry that owes to extensive use of bandsaw machine in order to cut metals in a variety of shapes.
There are some of the factors of imported bandsaw machine that are driven by some factors that include emerging economy and rapid rate of industrialization.
Another major factor of the demand of the machine includes high demand for processing forest wood and wood waste which is later been used as a biomass fuel for electricity generation as this fuel helps to reduce the carbon emission.
There is also a high demand for the machine in the rubber industry for rubber cutting. As well as there is rapid growth in the automotive industry for cutting metal for manufacturing vehicles.
Research shows that as the bandsaw machine is been designed with programmable logic control and robotics it creates a good opportunity for the imported bandsaw machine.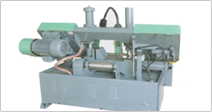 Imported Bandsaw Machine used in industries like –
Wood processing industry
Automotive
Plastic
Paper
Electronic & Electrical
Glass
Rubber

Types of Cutting Segmented by Bandsaw Machine
Miter cutting
Circular cutting
Ring cutting
Straight cutting
Regional Outlook for Bandsaw Machine –
There are different regions that have a good demand for the imported bandsaw machine. Research shows some of the regions like Eastern Europe, Asia-Pacific, Latin America, Western Europe, North America, Japan, and Middle East & Africa. Western Europe estimates with high demand for imported bandsaw machine due to the growth of consumption of wood processed fuel in order to generate power with high usage in co-firing. Other regions also have a growth rate in demand of bandsaw machine due to the growing production of wood-based biomass fuel.
This how it shows the growing demand of the imported bandsaw machine in the industry. Considering, with the future demand, Yash machine tools supplies with the high quality imported bandsaw machine to the industry. There are different types of bandsaw machine available that includes double column semi-automatic bandsaw machine, double column fully automatic bandsaw machine, and double column full automatic bandsaw machine with PLC control. Our other machines include different types of lathe machines, all geared lathe machines that include light to extra heavy duty lathe machine, CNC lathe machines, drilling machines, sheet metal machines, shearing machine, welding machine, and many more machines.