With increasing global innovation, industrial processing is becoming more and more efficient. Technology is an advancing engine of change and makes more technology possible. Advance processing systems in cement manufacturing is an embodiment of technology, which has also been reflected in the machine tools industry. The invention of the radial drill as supporting equipment in cement manufacturing enhanced efficiency and productivity in numerous ways.
Production Process
Production is through several stages before the product is realized. Various equipments are used in these processes. Two classes of raw materials are used in the manufacture process.
Lime containing raw material is combined with clay and clay resembling materials (shale, slag, bauxite, iron ore and silica) to form the final product. In efficient manufacturing 1.5 tons of raw material produces approximately 900 kgs of finished product. Manufacturing processes include;
Extraction of limestone
This is the process of dredging and digging out of the naturally occurring limestone. Explosives are used to dislodge the material, which is loaded on to trucks to the factory.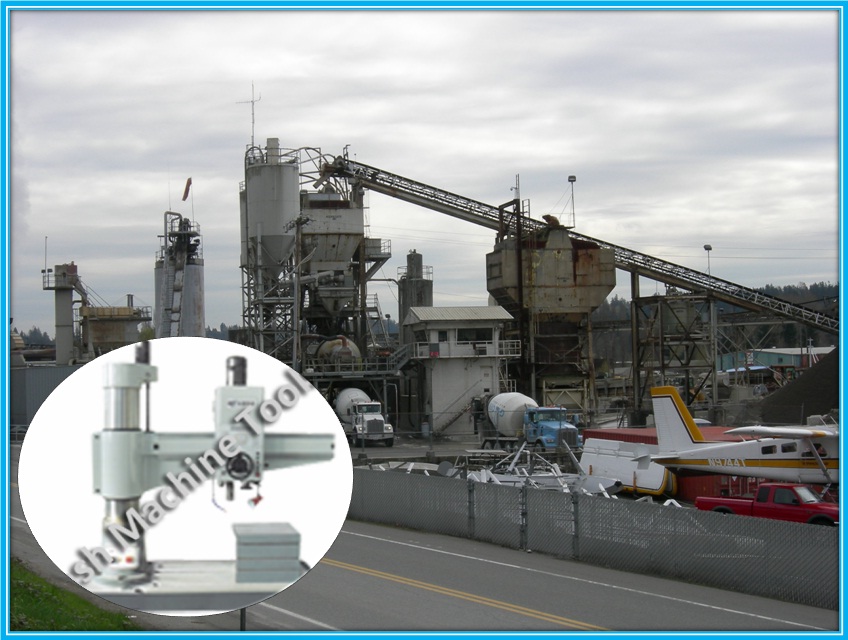 Grinding
This is a process of size reduction through crushing machines. There is the primary crushing which reduces the bigger size rocks of limestone to smaller, softball sizes. These are then further reduced in size to approximately quarter inch particles.
Blending
The process of mixing all the required raw materials before final crushing is done. At this stage, chemical analysis is done for the raw materials to ensure a uniform high quality product is achieved.
Fine Grinding
This process can be done through the wet or the dry process. Wet processing is done when the clay portion of the raw material is very moist to make dry processing impossible. Material is passed through drums containing steel balls, which reduce the size of material to sand like particles. In wet processing, water is added to form thin mud. Material is then in burned in giant sized kilns to produce clinker.
In dry processing, the processes are similar, but water is not added to the blended material before firing.
Equipment Used in Production
The whole process of cement manufacture is automated. This is due to the huge volume of material used for economical production to be achieved. Equipments used include; vertical and rotary shaft kilns, clinker grinders, ball mills ,material handling machines, crushing equipments, bucket conveyors, motors and rollers. The machinery used depends on the level of automation that the manufacturer prefers.
Maintenance of Equipment in Cement Processing
Cement production is a heavy energy consuming process and therefore regular maintenance. Regular preventive maintenance ensures continued efficiency in large-scale operations and increased profitability. Maintenance practices include greasing, oiling, shafts machining, replacing worn out parts, and even cleaning.
Manufacturers usually have separate supporting workshops for emergency repairs and maintenance. Among the critical equipment, include radial drill, lathe machines, milling machines and fabrication equipments. The radial drill is particularly useful due to its ability to handle large work pieces during drilling operations, countersinks making and in some cases boring operations.
Conclusion
Cement manufacturing involves combination of clay and limestone materials through a series of stages of crushing, grinding and firing processes. Supporting workshops are installed with equipments such as the radial drills, lathes and fabrication equipment. These ensure preventive and emergency maintenances are done without interfering with efficiency of the system.