Today thanks to the advance technology and the drill machines, complex industrial works have become simple and faster. These machines are made from  superior quality raw materials. A range of drill machines are available for multiple uses like drilling holes in various materials such as metal or wood.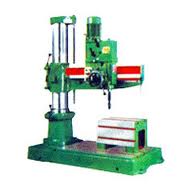 Radial Drill Machines
This is a very popular kind of drill machine which has a radial arm that can be moved during the operations especially while drilling holes in large or heavy work pieces. They are available in many sizes and capacity. The size of the drill head and the base plate varies according to the size of the machine.
These drill machines come in different forms based on length of the arm and the girth of the drill bit swing. These include V belt driven radial drill machines, All geared radial drill machines, and Imported radial drill machines.
The radial arm of the radial drill machines can be raised up or moved down or rotated on a vertical pole. The drilling head is placed on the radial arm. The position of the drill can be adjusted above a piece to be drilled by moving the radial arm.
The imported radial drill machines are very precise and accurate and are easy to use. They can drill holes of various sizes like 30 mm, 50 mm, and even 100 mm in solid steel or cast iron. These machines are compact in size and are outfitted with advance technology adhering to International standards. So a large machine can be placed in a smaller work place.
It can work over a large area without having to move or relocate the piece of work. A lot of time is saved as it is a lot faster to move the drill head than to change the position of the piece of work. Big pieces of work can be worked on easily since the work piece is hooked to the table directly.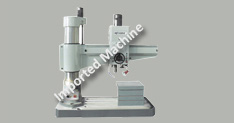 These imported drill machines are entirely automatic so working with them is quite easy and less time consuming. These machines have a coolant system and their spindle is power operated. The arm can be moved or lifted with the help of a motor. These do not vibrate or make any noise.
Radial drill machines are used for various tasks like boring, reaming, drilling, counter boring, lapping, spot facing etc. These machines can drill holes in many materials like cast iron, plastic, steel etc. These are widely used in the manufacturing and construction and metal industry.
While buying an imported radial drill machine do check the design and make sure it is tough and strong to last for a long time. Buy a machine that is multi functional so that you can use it for jobs other than drilling such as boring, spotting, counter boring etc. Also check the speed of the spindle for fast drilling processes and the controls must be user friendly. Click Here and visit Yash Machine Tool for getting information and best quality imported radial drill machine.
Be very clear about your needs and buy a machine that meets most of your requirements.
Conclusion
Since these Imported drilling machines are completely automatic, the work becomes easy, efficient and faster. A great deal of time and effort is saved for the user. These require very less maintenance.