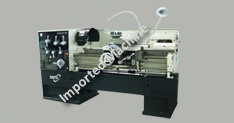 The all geared lathe machine is mainly used for executing various metal shaping tasks in different industries. They basically have a gear box with lead screw and feed shaft that increases its machining capacity. The wide range of all geared lathe machines includes light duty, medium duty, heavy duty and extra heavy duty. A light duty lathe is used for low volume metal shaping tasks in tool rooms, while the medium and heavy duty lathe machines are mostly preferred for bulk metal forming industrial applications.
A light duty all geared lathe caters to the light operational requirements of a work shop or tool room. They are highly versatile, accurate and durable. These lathes provide economic solutions for various turning needs with higher machining precision and better surface finish. It has a high speed dynamically balanced spindle and is built according to the latest technology. The ground bed of this light lathe is highly precise throughout the entire length of the machine. Further the lead screw is protected with a metal guard to avoid dust and increase the safety of the operator. It also includes a big spindle bore and hardened ground guide way.
All Geared Lathe
The medium duty all geared lathe has a modern design and is built according to the latest engineering standards. It has a tough cast iron structure that ensures the rigidity of the bed, head stock and saddle. The hardened guide ways provide all round firmness and longer life. Moreover, the new type of gear box and highly accurate spindles enable a perfect head stock performance. The fully enclosed feed box offers several types of threading, and makes the operator feel much safer and more comfortable.
The heavy duty all geared lathe is built for high end lathe machining work. This multi-tasking machine can perform highly precise jobs on solid sheet metals. The hard casting lathe bed, head stock gears and head stock spindle; work easily on hard materials due to the smoothly moving shaft. It also includes superior grade automatic gears and an automatic switch control panel.
The extra heavy duty all geared lathe is a suitable for easily executing high end tasks and powerful machining jobs. It provides total freedom for effectively cutting and drilling tough metals. This machine provides top quality results and has applications in various heavy industries. They are most appropriate for mining, shipping, power plant and paper industries that involve bulk quantity.
These lathes can execute turn end faces on cylindrical surfaces, and drill internal holes on different parts, as well as produce metric, inch, module, and pitch threads.
The top slides are powered to function separately for cutting short taper surfaces.
And the long taper surface can be turned automatically via the combined movement of the longitudinal feed and the top slide feed. One more salient feature of this robust equipment is the powerful, high speed spindle. This machine is utilized for drilling, boring, cutting, shaping a variety of ferrous and non-ferrous metals using heavy duty carbon alloy tools.